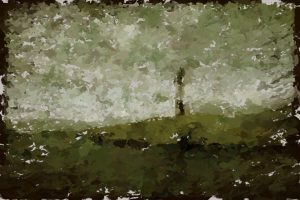 a promise of devotion: weeping for the Ensouled

'But Hel answered that a test would be made to see whether Baldr was as well loved as some say: "If all things in the world, alive or dead, weep for him, then he will be allowed to return to the Æsir. If anyone speaks against him or refuses to cry, then he will remain with Hel." (Sturluson, 2005, p. 68)
"An object bears witness to itself in the image it offers, and its depth lies in the complexities of this image." (Hillman, 2014, p. 74)
Listening to the sound of ripples is a way to capture the essence of someone quietly weeping. It is an encapsulating motion, revealing the eternal within all beings, that is animal, persons, landscapes, and especially the sea. For the sea, beckons us to weep. And we should all weep more, so as to create the image of music, a lyrical cadence that breaks us into a million pieces, a timbre that is, as deep a scent, as amber resin, a sound that collides so eloquently, that its complexity melts into the lines of your skin, becoming an imprint that reveals the layout of soul, the expression of your psyche, forever indelible… forever a mark on your memory. Inescapable.
Her voice is inescapable, "Would you…for my heart doth sigh?"
I know, it sounds like some sort of riddle, but really it is the beginning of a tale, a telling moment, a spark that ignites her descent, a beautiful tone that conjures the Ensouled and mythical figures to be present, for she will finally say farewell. Alda, another name for waves… my twin sister, who stands head to toe with me, will finally dissolve grief and sorrow so she can bring forth that which is dwelling in the ripples. She has been concocting an alchemical potion within her dream-soul for the last three nights. Maybe it was the words spoken by the huldufolk that inspired her; the hidden people who live in the boulders near the Reykyavik lighthouse. She spoke to them more than I did when we were children. I suppose that is why they have been visiting her dream-soul each night, since Lilja's death. They tell her that death is not meant to be kept in a box like a trinket. She must dissolve it, but first, she must make it visible. Excavate the imaginal.
Find a mirror and weep, they sing.
So… she summons me to her, "Would you Albin, would you follow me to the sea?"
I nod, wondering…will she leave us as well?
But then, she takes my hand… and you must know… she has not done this in awhile. And so, she says, as if her soul is returning to a place that she remembers, "You will never know, what it means to watch your beloved die, then dissolve your own soul, and then make a resolution not to follow that love."
Within her palms, I search for the weaving image the fates painted upon her hand as a child, that picture that propels Alda to her destiny. But rubbing her palm does not magnify the lines; it just reveals that her once delicate palms are now rough and stained, so many days carving clay into visible creatures… And so I say to her with a wink and a smile. "You are so right, Alda dear… I would dissolve with Aslaug."
And then she giggles… "My heart doth sigh, and I will say good-bye… or farewell… I shall tell…" her voice breaks off.
And then she is prancing out into the sea, creating soft ripples, while Draumr, her hound stands at the edge, guarding her, for all of us need the hound by our side when we enter the underworld. This underworld of darkness, illuminating the presence of the unknown that which, most fear and most certainly, never come to witness, as the Ensouled; the collective unconscious, beholden with offerings.
So Draumr and I, watch and wait, gaze at Alda's head surface eight times, as if diving into the depths that many times are some magic infinite dance for the dead. I would like to tell you, she is searching for Lilja's bones, but truly she is re-creating a moment. This moment where she saves her beloved, but certainly, you must also know, she is really trying to get a look at her soul… that particular aspect of soul that is transfixed in a memory. Do you get what I am telling you? … We must imagine with her, we must dive with her… For I do, not because I am her twin, but because more than she knows, I understand the meaning of mixing balms for the wounds of the soul. I do it every day… every day that I pull the notes from the weeping tones of the gods. The ancient ones, the huldufolk know this, that's why they come to her each time she closes her eyes… for, if she can find that reflection, then she will not feel so invisible, she will leave her loss at the bottom of the Arctic sea. And if she can see the manifestation of Sorrow, then certainly, she can see the formation of Love, and know this… it is not an invisible creature; it is a reflection of what we miss most in this dreary world, to be with the Ensouled, to laugh, to cry and imagine with them. I suspect Alda lost their image, discarded their presence, the dwelling of the Ensouled, within the lines of her own palms, when she lost Lilja to the sea.
Now… what does she see? Well… to know this, we must imagine with her. Do you know, what it feels like to give your psyche to the Ensouled? (Yes, I am whispering). They like it when you whisper. Do you know what your soul looks like? Well… it may seem invisible to the eye, but within the realm of the underworld, it is more textured, a spider's web, a labyrinth… possibly… an emotional charge that explodes like a weapon. You just have to observe… like you're viewing a film in slow motion.
So imagine… this is what she envisions, as she dives…first, there is a yellow-black aura filtered through the room, a sort of warehouse. And the only sound, a melodic seduction and offering from the Ensouled, is a voice behind her that says, MOVE, yes… simply MOVE… and before she can even turn around, with a great force, she is catapulted across the room, as if her body is some sort of boulder, leaving the warriors hand… yes… it is slow motion… but still she does not have time to wonder what is behind her… or what will happen to her body… so she wraps her arms around her belly, closes her eyes and collides with the wall. Do you hear it now? A contralto "A" closest to middle "C" at the back of the throat shatters the black and yellow aura, settling into cobalt blue.
Yes… my heart doth sigh, for that is what I here… me, Albin… this is the tone I imagine, as a message from the Ensouled, who wander this earth, through the fjords, the mountains and streams, reminding us to weep, so that we will sense them as a melodic note, a weeping note that breaks through the web of psyche.
But wait… Alda is smiling, for what comes next is the moment where she opens her eyes. Nei…it is not light, not some spectacular light show, but it is dark, opening up into a grey light, with an amber hue hovering around her. And she understands now, what the voice means… já… the huldufolk… they can trick us, but they mean well… you see, when she hits the wall she does not crumble into a thousand pieces, but rather, she becomes the lines within their hands. Her psyche crumbles, melting into the wall that is truly psyche, the soul of the dream underworld: the Ensouled. This surrendering to the tones of the underworld, embraces her within the grasp of the Ensouled, the ones who want us to be conscious of consciousness, as it greets the unconscious… já… psyche takes a form in the underworld… and so, it is in that moment that Alda dissolves. It is there, in that moment that she is no longer invisible… well… not that she ever was, but she now knows, she is caressed and perceived in the depths of sorrow and grief.
And there it is… move… four letters to cause a ripple in a wave… a tone that offers solace to the grieving soul, a motion to change the shape of a living disposition that dwells within us. Now ponder this, what happens, if we cover mirrors when death, the Ensouled makes an appearance? Perhaps, it creates forgetfulness within the soul, and we forget to imagine.
But there it is… an aesthetic tale that reveals dissolution of liquid into stone that mirrors the gestures within the sea; its rapture, an image of weeping, for us to remember, what they look like, for us to return to the knowing, that they have not left us; they are enlivened, ensouled within all things, all beings.
And so, I will not say farewell, or see you soon… I will continue wandering, as I leave you with one more foretelling….
Alda takes my hand, pulling Draumr close to her side, as we wander pass the lighthouse. And she whispers an intonation, especially for the Ensouled… She professes, "I will always love Lilja… já…my heart doth sigh… it opens, it shatters, for the ripples beckon… they reflect another wanderer Albin… she is near."
Ahhh… I think to myself…the ripples are weeping.
(gina rochell, 2016)
~dedicated to my Icelandic tribe. I am honored that you have summoned me to return, and as I move through this soul of the world, I will always hold your beloved memory as a weeping note. You are breathtaking, and so I bow in everlasting reverence… kisses…~
Hillman, J. (2014). The thought of the heart and the soul of the world. Putnam, Conn: Spring Publications.
Sturluson, S. (2005). The prose edda. New York, NY: Penguin Books.